SAP Payroll Cloud
The EPI-USE's SAP Payroll Cloud delivers significant advantages.
Payroll is complex, mission-critical and wrapped in layers of statutory requirements, bargaining agreements and processes. Many organizations would like to have their employees on the SAP HCM platform as a single system of record. This has benefits, not least of which is HCM reporting and analytics insights across the entire employee base.
However, when it comes to payroll, control over employee data can be lost by the organization. Your choice then is to implement SAP payroll at a high cost per employee, or outsource it to a payroll provider and lose control over the process. This is why we introduced EPI-USE's SAP Payroll Cloud. The graphic below illustrates why the SAP Payroll Cloud brings the two thoughts together.
We let you manage employee compensation data in SAP. You can then send the data to us to do the payroll processes and calculations and we send the results back to your SAP system. It's completely secure, as all identifiable personal data is made anonymous to keep the payroll information confidential before it leaves your SAP system.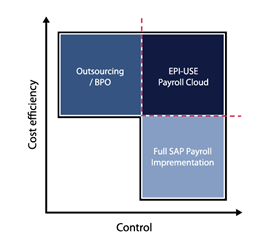 Advantages
The EPI-USE's SAP Payroll Cloud delivers significant advantages. Implementation is shorter and more cost-effective – monthly payroll processes are simplified and automated and you only need to deal with one external provider. There's also no need to create and download files to send separately to each payroll provider in various countries. The consolidated results are shown immediately – you don't have to maintain spreadsheets or manually import the data back in SAP. Importantly, you establish a consistent global payroll architecture and boost payroll management.
This occurs because our SAP Payroll Cloud:
offers a hosted solution – it needs no additional hardware and requires minimal basis involvement
ensures plans and budgets are based on an integrated view of all global employees
provides a single consistent organizational structure and wage types
provides a payroll and compensation framework for countries where implementation of a full SAP payroll is not possible
enables a single payroll process for all countries
allows SAP payroll to be customized for specific business requirements
facilitates the re-use of solutions and fosters the effective use of an existing skill base in a shared services environment